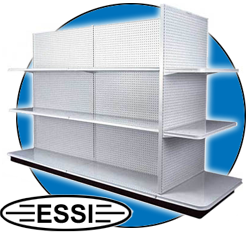 Gondola ShelvingTwo configurations available, a single sided and a double sided. The single sided configuration has shelving on only one side of the fixture. The single sided Gondolas are typically positioned up against a wall and the wall provides support for the back side of the fixture from tipping and overturning. The Double Sided Gondola Shelving Units are placed in the center of the store creating aisles that divide a store. The single sided and double sided Gondola Shelving units are assembled with all the same parts. This make the gondolas one of the most versatile store fixtures in use world wide.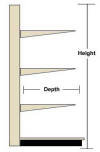 Shelving Sizes are available in standard heights that start at 36″ and run as high as 96″ and above either with the use of extensions or by special order. Base depths start at 12″ and run as deep as 30″. Upper shelves for gondolas start at 8″ and run as deep as 30″ deep by special order. Standard widths are 3′ and 4′ widths with a 24″ and 30″ width available by special order.
When considering the foot print for double sided gondolas for your store please take into consideration the size of the upright that runs up Gondola Sizesthe center of the shelving unit is almost 3 inches wide and the lips of the shelves hang our approximately 1/2 inch on both sided. On the single sided units pleas allow up to 3 1/2 inches for the upright and the tag molding on the shelves.
Standard Gondola Products the double and single sided Wall Gondola Shelving, the End Cap configured from a single sided section utilizing a standard double back configuration, standard upper shelves and wire shelves that have many uses with Gondola Shelving, Shelf Fencing and Dividers that provide that capability of binning, dividing a shelf into sections and prevent merchandise from falling of a shelf.
Gondola Accessories Although there are more accessories for Gondola Shelving then you can shake a stick at some of the more popular accessories are: gravity feed soda bottle shelves mostly for 2 liter bottles, candy racks, nut and bolt bins, Hangrods, casters for mobility, lighting systems for upper shelves, what is known a hypermaxi racking that provides even more strength and stability for the storage of merchandise above the shelving unit, inside and outside corner sections for the half gondolas are very popular, a lit canopy with a light system always adds to a higher end store.